What is CSPA?
The Child Status Protection Act (CSPA) was passed in 2002 to help certain immigrants who were previously classified as children for immigrant visa purposes but who had since turned twenty-one (21) and thus become ineligible for the visas they had applied for.
Under the Immigration and National Act §101(b)(1), a child is an unmarried person under the age of 21 years old. CSPA does not change the definition of a child, but it allows an alternative way to calculate the immigrant's age specifically for the purpose of getting their immigrant visa.
Who does CSPA Apply To?
CSPA applies only to the certain types of immigrants:
Immediate relatives (Spouse of U.S. citizens, unmarried children under 21 years of age of a U.S. citizen, or a parent of a U.S. citizen if the citizen is 21 or older);
Family-sponsored preference principal applicants and derivative applicants;
Violence Against Women Act (VAWA) self-petitioners and derivative applicants;
Employment-based preference derivative applicants;
Diversity Immigrant Visa derivative applicants;
Derivative refugees; and
Derivative asylees
CSPA is applied differently depending on what category of applicant you fall under, which we will cover below.
On top of being one of the above categories of immigrant, you must have one of several forms filed or pending on or after August 6, 2002. These forms are:
How Does CSPA Apply to Immediate Relatives, a VAWA self-petitioner, or a derivative applicant of a VAWA applicant?
Immediate relatives, VAWA self-petitioners, and derivative applicants of VAWA applicants have a simple way of determining their adjusted age for purposes of getting a visa. Their age is frozen from the time the Form I-130 or Form I-360 is filed, so if they were under the age of 21 at the time of filing, they will be eligible under CSPA and will not age out of being able to get the visa. Note, however, that they must remain unmarried to be eligible.
How Does CSPA Apply for Family and Employment Preference and Diversity Visa Immigrants?
Family and Employment Preference and Diversity Visa Immigrants have a more complicated means of determining their adjusted age under CSPA. Immigrants under these categories calculate their adjusted ages with an equation as follows:
Age at the time the visa becomes available – pending time = CSPA Adjusted Age
Age at the time the visa becomes available is determined by whichever is the later of two dates: (1) The date the petition is approved; or (2) the first day of the month when the Department of State Visa Bulletin indicates that a visa is available to you. You can determine if a visa is available to you by seeing if your priority date (seen on your approval notice) has come up under the Final Action Dates Chart. For example, in Figure 1 below, a Mexican resident petitioned by a sibling (F4 preference) would need to have a priority date from 22 June 98 or earlier to have a visa available to them.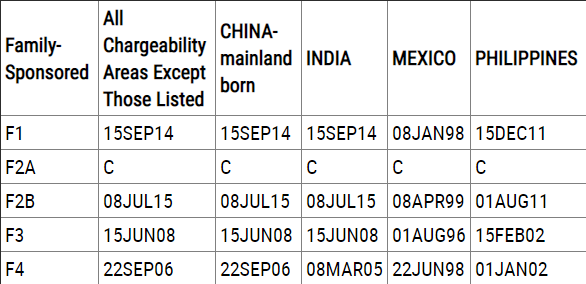 Fig. 1: The chart above shows Final Action Dates for Family-Sponsored Preference Cases. Taken from: https://travel.state.gov/content/travel/en/legal/visa-law0/visa-bulletin/2021/visa-bulletin-for-october-2020.html
How Does CSPA Apply to K-2 and K-4 Nonimmigrants?
CSPA is more limited when it comes to K-2 and K-4 nonimmigrants, but that is partially because they have their own protections without relying on CSPA.
A K-2 nonimmigrant is a child of a K-1 nonimmigrant who is the fiancé(e) of a U.S. citizen. Without relying on CSPA, K-2 nonimmigrants will not age out of eligibility for a Green Card as long as they were under 21 years old when they were admitted into the United States as a K-2 nonimmigrant.
A K-2 nonimmigrant may need to rely on CSPA if they are beneficiary of Form I-130, which is only necessary if the K-1 parent and the stepparent did not marry within the 90 days required for a Green Card under the K-1 and K-2 processes. In this instance, the stepparent can file a form I-130 for the stepchild. Upon the filing of the I-130, the step-child becomes an immediate relative (as long as the person is under the age of 18 when their parent marries their step-parent) who can take advantage of CSPA to get a Green Card even if they would otherwise age out.
A K-4 nonimmigrant is similar except they are the child of a foreign spouse (instead of fiancé(e)). The K-4 visa (along with the K-3 visa for the spouse) allows the U.S. citizen to bring their family to the United States while the I-130 is pending. K-4 nonimmigrants are eligible for CSPA because they will apply for a Green Card as an immediate relative based on the form I-130 filed for them (so long as the K-4 recipient was less than 18 years old when his or her parents married).

Conclusion
The application of the Child Status Protection Act can be quite difficult and requires familiarity with the statute in order to properly calculate the ages of people hoping to take advantage of it. It is recommended that anyone hoping to use CSPA to obtain a Green Card work with an attorney to determine eligibility.
To schedule an initial consultation with us today, don't hesitate to contact usat (949) 478-4963.